I received a free digital ARC of Shadow of the Fox by Julie Kagawa in exchange for an honest review.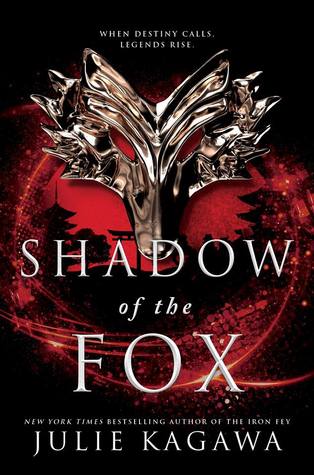 Release Date: October 1, 2018
Add to your Goodreads shelf now! (Seriously, add it!)
Preorder today on Amazon!
Official Description blurb courtesy of NetGalley
"Once Every Thousand Years…
Every millennium, one age ends and another age dawns…and whoever holds the Scroll of a Thousand Prayers holds the power to call the great Kami Dragon from the sea and ask for any one wish. The time is near…and the missing pieces of the scroll will be sought throughout the land of Iwagoto. The holder of the first piece is a humble, unknown peasant girl with a dangerous secret.
Demons have burned the temple Yumeko was raised in to the ground, killing everyone within, including the master who trained her to both use and hide her kitsune shape-shifting powers. Yumeko escapes with the temple's greatest treasure—one part of the ancient scroll. Fate thrusts her into the path of a mysterious samurai, Kage Tatsumi of the Shadow Clan. Yumeko knows he seeks what she has…and is under orders to kill anything and anyone who stands between him and the scroll.
A WISH WILL BE GRANTED AND A NEW AGE WILL DAWN."
My Thoughts
OMG! I loved, loved, loved this story! I felt teenager me leap for joy because this story felt like I was reading a Feudal Period manga. I totally got an Inuyasha meets Fushigi Yuugi meets Rurouni Kenshin meets Princess Mononoke vibe from this story and you have no idea how happy that makes me.
Yumeko is such a lovable and bubbly character. I love that she's half-kitsune and she is torn between wanting to be herself and also wanting to be a good human. Julie Kagawa does such an amazing job describing Yumeko's joy and fascination at new things, from both Yumeko's and Tatsumi's perspectives.
Tatsumi took a little longer for me to warm up to, but he had great character growth within this first book. He was such a typical teenage boy when it comes to meeting a pretty girl his own age. I found his tough process towards Yumeko to be very endearing and I hate the cliffhanger Shadow of the Fox leaves us with involving Tatsumi. Sorry, I'm not going to spoil the ending 🙂
Add in Okame the ronin for comic relief and Daisuke the samurai for some noble honor, we have our well-rounded crew of characters. The characters all mesh very well together and I feel that they all have well-rounded personalities.
I loved the surprise twist ending involving the villain of this book and I eagerly await for the next book of this trilogy.
Conclusion
I wholeheartedly recommend this book to anyone who enjoys reading Feudal Period manga/anime, a good adventure/fantasy story, or heck, even anyone who doesn't know what they like to read!
I loved this story! I give Shadow of the Fox 5 stars!